What is the basic process of plastic extrusion?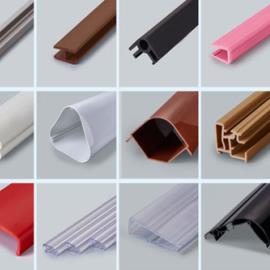 What is the basic process of plastic extrusion?
Let us understand the process of plastic extrusions. Plastic extrusion is a continuous process in which thermoplastic feedstock material in an extruder is transformed into a molten viscous fluid using heat. This thermoplastic fluid is then forced through an opening where it is shaped and cooled into solid form these forms include bar and rod tubes and pipe or profiles such as angles and other cross sections.
Flat products such as sheet and plate, flexible film for bags and packaging, monofilament, and wiring insulation thermoplastic feedstock are fed to the feed barrel from the hopper which is vacuum fed.
As the feedstock enters the feed barrel it is driven forward by the rotation of the screw of the feedstock which plasticizes or melts as the rotating screw drags it forward this is referred to as drag flow. Drag flow causes the thermoplastic molecules to slide over each other creating frictional heat which melts the material.



What does Pacer Plastic profile Australia deliver?
We are the manufacturer of roll-formed steel sections and plastic extrusions from materials incorporating rigid and flexible PVC, ABS, and ASA among others for a variety of industries for almost 20 years. Our focus remains on product development for home products and custom products for our clients since 1999.

Shop with Pacer for quality!
At Pacer plastic profiles Australia we bring to you POS extrusions, wardrobe extrusions, and custom extrusions. From shelves to the counter our POS solutions are tailored and designed to convey your message effectively our extrusions include a hinged adaptor, poster holders, shelf talker clip for bags and cartons along with J-strip.

With regards to wardrobe extrusions Pacer profiles, Australia delivers and manufactures rigid extrusions used by wardrobe manufacturers for the installation and assembly of sliding door wardrobes.
Pacer profiles Australia is also the leading manufacturer of flexible pvc nft tubing. Depending on the size of the ordered tubing it is available and supplied in 10m, 100m, and 200 m rolls. You can also customize for size and colors.

Best in Class Hydroponic channels and Data Strips!
You are welcome to buy data strips and hydroponic channels from Pacer plastic profiles Australia. Our data strips are strong and hold your tickets in position on baskets and shelves hooks. If no color is required the strips come all clear otherwise the standard colors include white, red, black, grey, and blue. The most common lengths are 914 mm and 1200 mm. Furthermore, Pacer plastic profiles Australia
has NFT hydroponic growing solutions for Asian vegetables, herbs, and lettuce. We manufacture 100x50 NFT hydroponic channels (Gully) which last long and are durable. These channels are perfect for growing strawberries, herbs, basil, lettuce, and much more. What makes it totally worth every penny is the angled top of the gullies, one piece design which gives greater torsion strength, Integrated mounting tabs where you just screw through the base tabs into the benches, and the dished grooved trough which facilitates better flow.
Your worries about plastic extrusions end here! You don't need to worry about our gully because its longevity is unparalleled. Manufactured from high-impact, UV-stabilized rigid PVC. The plastic is exclusively crafted for ensuring longevity under Australian conditions.

20 Ridgeway Road, Edinburgh North 5113 South Australia